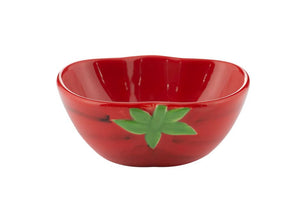 The Typhoon World Foods Tomato Bowl is ideal for indoor and outdoor dining. The bowl is designed and finished in the shape of a tomato and makes serving snacks and dips practical and fun.
Produced from fine, durable ceramic stoneware and finished with a durable coloured glaze, the bowl resists chipping and cracking withstanding the rigours of everyday use.
The bowl is the perfect size for serving a variety of dips as well as measuring out seasoning, spices and ingredients whilst cooking.
Suitable for use in the freezer and microwave as well as being dishwasher safe the bowl can also be stacked for easy storage.