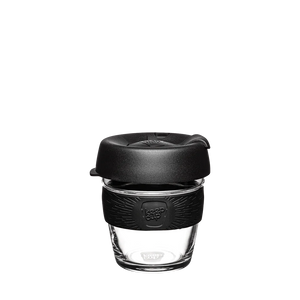 The world's first barista standard reusable cup. This style is made with durable tempered glass and a silicone band giving it a stylish aesthetic. Designed to enjoy the craft and sensory drinking pleasure of coffee on the go.
Capacity: 6oz/177ml
Microwave glass cup with the lid off to a maximum temperature of 100 °C / 212 °F.

Caution: Rapid temperature change or heating over 100 °C / 212 °F may cause the glass cup to shatter. You cannot heat liquids in the microwave above boiling point, or put a cold cup in boiling water or microwave.

Designed to be taken apart for easy cleaning.

Dishwasher safe on the top rack. We recommend placing small components such as plugs and silicone band in cutlery tray or basket, so they do not become damaged or lost.

Please note: If water gets under the band during washing, it can slide down the cup. For best results, use a dry band on a dry cup.