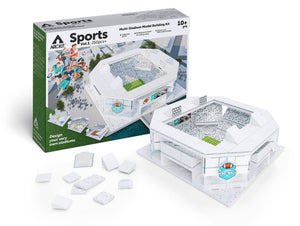 Stadium Scale Model building kit, Volume 1, from Arckit
Arckit Sports vol. 1 introduces the fascinating world of architecture and multi-stadium design to fans of field sports including American Football, Baseball, Soccer, Rugby, Athletics and Gaelic football.

With this amazing miniature 'open ended' model kit you can design your own" Theater of Dreams". This 'hands on' 3D Stadium model kit is a new highly interactive and engaging way for you to explore your very own ideas in building the perfect stadium for your favourite sport. Create a vast array of Stadium design possibilities for your favorite teams at home and around the world.