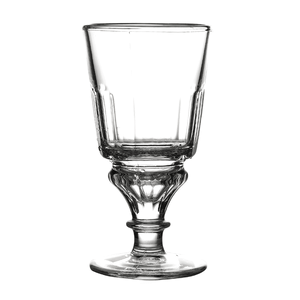 Perfect for any ice cream treat!

Bring French style to everyday meals with these elegant faceted glasses perched over a thick stem shaped with a beautiful silhouette.
A favorite on French tables for generations, the Perigord collection has ridged lines and a timeless silhouette that exude everyday elegance. An original La Rochere design, this collection is inspired by wine glasses from the 18th century, when this signature style first emerged. The pieces are made from thick, durable soda-lime glass, making them perfect for everyday use.
La Rochere has been producing artisanal glass in the heart of France for more than 500 years, making it the oldest continuously running glass factory in Europe.
The company is recognized around the world for designing and producing authentic, high quality glassware with French style for today's modern home. Nestled in the forests of the Lorraine and Franche-Comté region of France, La Rochere produces all of its glassware in-house. Using a custom manufacturing process, La Rochere pieces are created with a two-part open mold, giving them the brand's iconic seam. The result is superior quality glass, known for its exceptional clarity, brilliance, durability and authentic French style.
5.75 inch high x 3.5 inch wide, 7.4 oz
Dishwasher & Microwave Safe
Avoid severe thermal shocks.
Made in France