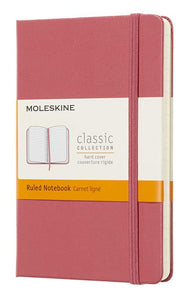 The classic and legendary Moleskine notebook is tinged once again with new colours and shading maintaining the iconicity and characteristics of the most loved notebook.
Classic design with elastic closure and a convenient bookmark to never lose your place. On the back, an expandable pocket to hold important notes and papers.
The notebook has 192 pages with ruled layout and ivory-coloured 70 g/m² acid-free paper and the iconic "In case of loss" notice for your contact information in case you lose your notebook.
On the B-SIDE of the reusable band, additional instruments are printed. The Moleskine story is printed inside all our products.
Opens totally at 180°.
The package contains a notebook with ruled layout and hard cover, available in size pocket 9 x 14 cm, 192 pages, daisy pink.