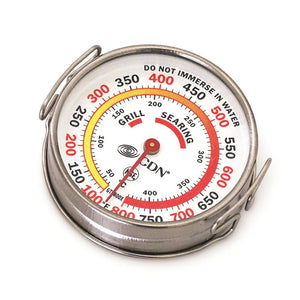 This NSF certified CDN ProAccurate grill surface thermometer (GTS800X) gives grilling enthusiasts the advantage of knowing the exact temperature of their grilling surface. It sits directly on any cooking surface, from the rack of a grill to a frying pan or griddle, and it features a helpful colour coded scale that highlights target temperatures for grilling and searing perfection.
The ProAccurate grill surface thermometer provides accurate measurements in 10-degree increments between 40 and 425C, making it ideal for grilling lamb, chicken, beef, shrimp, vegetables and other favourites. Constructed for durability, it features a sturdy laboratory glass lens that can withstand high heat, and a large, shatterproof, easy-to-read dial. Place directly on grill.
DIMENSIONS: Display; 5.7cm
INFO: Wipe Clean with Damp Cloth. Instrument range is 40 to 425C.