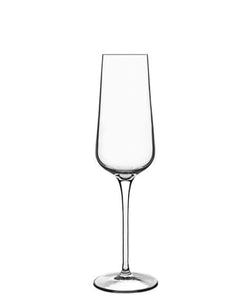 Luigi Bormioli glasses are known for their exceptional designs - they are made in Italy from the purest of raw materials. Their design is distinctive and the highly innovative production process allows for an extra pure and totally transparent glass which is sparkling, longer lasting and resistant to breakage.

The Intenso range is ideal for an elegant and distinguished table setting - a range of stemware with high sensorial perception reducing the wine flaws.

This Intenso 240 glass is best for Spumante, Prosecco and Champagne. 

DIMENSIONS: 24cm x 7cm | 24cl
INFO: Dishwasher Safe.