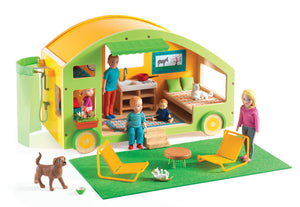 Ready for holidays? This beautiful wooden caravan makes feel like you will enjoy sun and nature! It comes with all the accessories shown on the picture (bedding, kitchen furniture, two long chairs, table, etc.). Complete it with the dolls of your choice (sold separately).

And a little detail: there is a shower on the side!!!

About MON PETIT HOME by DJECO
MON PETIT HOME is a fun and challenging project where childhood meets architecture. When creating this collection, Djeco took inspiration from signature works by the greatest modern architects. The result is definitely contemporary wooden houses with uncluttered design and bright, colourful interiors. With the latest word in furniture and families of realistic, lovable dolls, these houses invite children to let their imagination run riot.