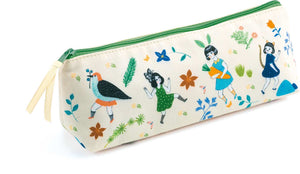 If it fits, it belongs.
Designed by Taiwanese illustrator Chichi Huang, this sweet whimsical pencil case is the perfect home for all your stationery needs because its unique triangular cut makes it a whole lot more spacious than it looks. From fancy tapes and erasers to your full range of colored markers and more, you can finally make those small things count because as long as it fits, it belongs!
Plus, it's sewn with soft, lightweight fabric cotton too, so it'll fold right into any space without adding unnecessary weight - especially when your backpack's getting a little over-occupied. Its inner sponge lining also prevents your bits and bobs from getting easily damaged, so everything stays usable even when housed in super tight conditions or if accidentally dropped in a hurry!