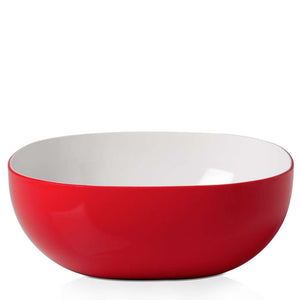 Some people find that the Synthesis bowls have the form of applied art. There's something to be said of this. The square and round composition appears rigid, but it actually looks very natural. The appeal is reinforced by lovely duotone colours: colourful on the outside and white on the inside so that dishes are presented as nicely as possible.   
The attraction is further enhanced by the use of duo tone colors; colorful from the outside and white from the inside, so that food can be presented optimally. Durability is the trademark of Mepal. This is why Synthesis is also made of melamine, one of the hardest and most scratch-resistant plastics. The bowls can withstand temperatures of up to 70°C and are so strong that they can be used indoors and outdoors. Each bowl retains its vibrant color over time.   
DIMENSIONS: 28cm x 10.5cm | 4L
INFO: Dishwasher Safe. Not Suitable for Microwave.