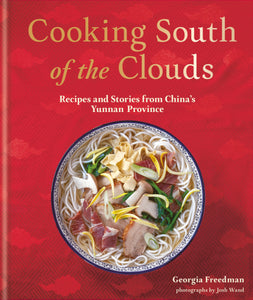 Yunnan is the other China, the one you do not hear about on the news. It has been called the China 'beyond the Great Wall'. Twenty-four of the country's minority groups call Yunnan home, each retaining their own traditions. Stretching from the Himalayan plateau down to the subtropics, Yunnan encompasses extremes from alpine meadows to rainforest. It is the most diverse region in China culturally, biologically, and meteorologically.
On a culinary level, this means Yunnan is one of the most delicious places on earth. The region is famous for its mushrooms, hams, pickles, edible flowers, its use of potatoes, and its love of chillies and Sichuan peppercorns.
Yunnan's food is exciting and unfamiliar, but much of it is actually quite easy to make, using simple
techniques already familiar to Western cooks. Each chapter covers a different area featuring its cardinal recipes such as Tibetan momo dumplings, Dai cucumber salad with peanuts, the famed "crossing the-bridge" noodles of Kunming, Eastern-style fried rice with ham, potatoes, and peas, and roasted eggplant salad from near the Burmese border.