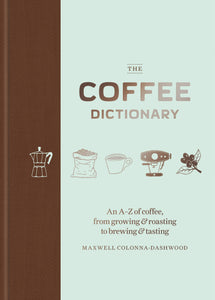 Maxwell Colonna-Dashwood's new book is an A to Z of terms, concepts and stories inspired by coffee's journey from seed to cup, with over 80 beautiful illustrations from artist Tom Jay.
With hundreds of entries on everything from sourcing, growing and harvesting, to roasting, grinding and brewing, three-time UK champion barista and coffee expert Maxwell Colonna-Dashwood explains the key factors that impact the taste of your drink.
Illustrated throughout and covering anything from country of origin, variety of bean and growing and harvesting techniques to roasting methods, brewing equipment, tasting notes - as well as the many different coffee-based drinks.