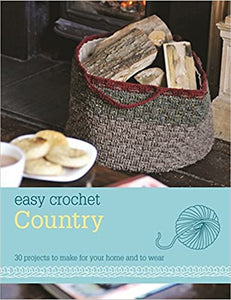 Each book features a range of patterns to make for the home, to wear or to give, so you will find plenty of projects for a whole range of needs.
Whether you're reviving your love of crochet or you've just discovered this restful and soothing pastime, there is an Easy Crochet book for you, and with every project tried and tested, and each technique fully explained, they're perfect for both beginners and experienced crocheters.
Fashion is always changing, but comfort never goes out of style. Hone your crochet skills on these country-inspired projects and enjoy simple bags and sweaters, log baskets, cosy hot water bottle covers.... and much much more!