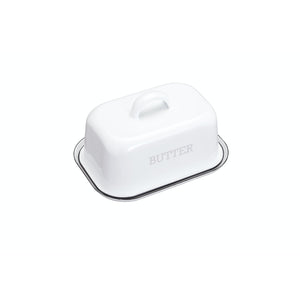 Another beautiful piece from KitchenCraft Living Nostalgia, this butter keeper pays tribute to the hardy, practical enamel products of years past. It's ideal for those who want their serving dishes to last, and appreciate the beauty of simple, functional homeware. Made of steel coated with Living Nostalgia's iconic grey / white enamel mix, this butter dish is sturdy enough to use anywhere. Take it on picnics, enjoy a sunny garden brunch, or display it on the dining table to keep your butter nice and spreadable every day. Best of all, simplicity never goes out of style, so it goes beautifully with any décor.
DIMENSIONS: 10cm x 13.5cm x 18.5cm
INFO: Hand Wash Only.