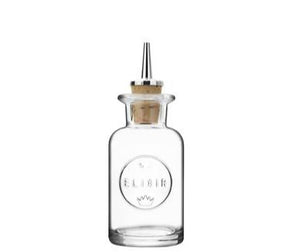 Designed with mixologists in mind, these Elixir No.2 Dash Bottles are the perfect addition to your barware collection. Ideal for storing and pouring spirits, bitters or liqueurs, these elegant dash bottles can alternatively hold vinegar oils.

Made from hig quality Luigi Bormioli glass with 'Elixir No.2' embossed into the glassware. The airtight cork keeps the content fresh and features a stainless steel pourer.
DIMENSIONS: 14.2cm x 5.2cm

INFO: Hand Wash Recommended.